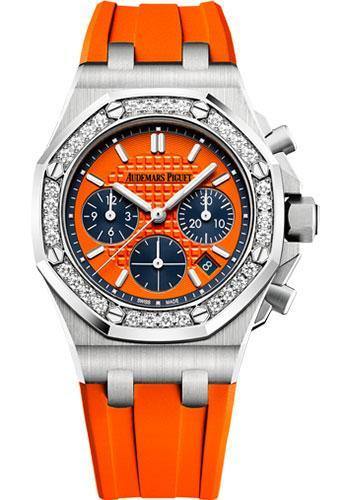 Audemars Piguet Royal Oak Offshore Selfwinding Chronograph Watch-Orange Dial 37mm-26231ST.ZZ.D070CA.01
Audemars Piguet is considered one of the mostprestigious brands in the industry and has always been making headlines.Although AP alwaystend...
1 year warranty on watches
Audemars Piguet is considered one of the mostprestigious brands in the industry and has always been making headlines.Although AP alwaystend to surprise us when they introduce new watches to an already iconic collection. Here we are talking aboutthe Royal Oak Offshore Chronograph collection.
The Royal Oak Offshore collection has defied odds since 1993. For the past two decades, AP has presentedthis watch with an evensportier, masculine, and compelling take on the iconic Royal Oak and its aesthetic codes.Some iterations of The Royal Oak Offshore Chronograph made its debut in 2018, marking the 25th anniversary of the Royal Oak Offshore. It can be considered asa faithful recreation of the original "Beast." Its angular case that measures 42mm x 14.4mm makes this watch look magnificently majestic.And the exposed gasket between the bezel and the case is in a blue matching the dial. It can be a brilliant addition to your collection. Shop from an excellent range of AP watches from NY Watch Lab and make your life more luxurious.
NY Watch Lab offers free shipment on all products and to all countries that can be selected when choosing the shipping address. Estimated delivery time for FREE shipping within the United States is 7-10 business days. For FREE international shipping, the estimated delivery time is 14-28 business days (depending on your country). As customs procedures & protocols differ in each country, our estimated shipping times do not include the time it might take to clear your customs agency.
The buyer bears the responsibility for filling correct information of the delivery address; in case anything goes wrong with the shipment of an order due to an error in the delivery address made by the buyer, NY WATCH LAB cannot be held responsible for the loss of the shipment. In case NY WATCH LAB needs additional information regarding a delivery address, the buyer may be approached by NY WATCH LAB to provide further information. There may be a delay in the delivery in case additional information regarding the delivery address is needed.
NY WATCH LAB will use all reasonable efforts to deliver the order within the expected delivery terms to the delivery address. If the delivery cannot be implemented or if the delivery suffers a delay, the buyer will be informed about this as soon as reasonably possible after the order has been placed.
Deliveries are made Monday to Saturday, excluding holidays.
NY Watch Lab is honored to provide you with a watch that you love.
That is why we stand by all of our products with a one-year International warranty. If an item fails, as a result of a manufacturer's defect at any time during the year, we will repair or replace the item at absolutely no cost.
If your watch has any symptoms of abnormality, gaining or losing time, or not keeping proper time, please do not hesitate to contact us by phone or email. You can contact us at +1 347 256 3893.
NY Watch Lab guarantees that your timepiece will be free of material and artistry defects and warrants the dependable functioning of its entire movement. If NY Watch Lab determines that a repair under warranty is required, one of our trained watch professionals will direct you on how to safely and efficiently ship the watch to us, or how to reach the designated service centers. Under warranty, NY Watch Lab does not cover internal or external damage resulting from excessive wear, or mishandling. Also, normal wear and aging from scratches and abrasions to the crystal, case, band, or buckle are not covered. Alterations or tampering of parts like batteries or accessories will also not be covered.

GUARANTEED ORIGINALITY
Watches described as new are with their original seals intact, along with the manufacturer's packaging and all original
paperwork. Each watch that we sell comes with a comprehensive manufacturer's guarantee.