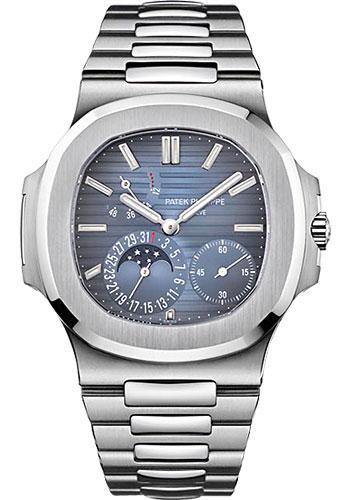 Patek Philippe 40mm Nautilus Watch Blue Dial 5712/1A
Since 1976the Nautilus has epitomized the elegant sports watch with the rounded octagonal shape of its bezel, its horizontally embossed...
1 year warranty on watches
Since 1976the Nautilus has epitomized the elegant sports watch with the rounded octagonal shape of its bezel, its horizontally embossed dial,the ingenious porthole construction of its case. Four decades later, it still comprises of a splendid collection of models for men and women. Also, here is an interesting fact - Gérald Genta, who designed the Royal Oak for AP, brought his sketch to Patek Philippe for the Nautilus in 1974.
Interestingly, the nameNautilus comes from the submarine featured in Jules Verne's classic novel, 20,000 Leagues Under the Sea. The portholes on Captain Nemo's submarine hada seemingly an oval shape. So, like a porthole, the sides of this magnificent timepiece serves to attach the bezel to the case,which leaves only one opening, in addition to the crown. This construction let this watch achieve water-resistance of 120 meters, which, at the time, was specifically high.
Furthermore,The Nautilus collection was Patek Philippe's first step into the realm of sport watches. The model was an instant success and continues to be a staple for Patek Philippe to this day.
NY Watch Lab offers free shipment on all products and to all countries that can be selected when choosing the shipping address. Estimated delivery time for FREE shipping within the United States is 7-10 business days. For FREE international shipping, the estimated delivery time is 14-28 business days (depending on your country). As customs procedures & protocols differ in each country, our estimated shipping times do not include the time it might take to clear your customs agency.
The buyer bears the responsibility for filling correct information of the delivery address; in case anything goes wrong with the shipment of an order due to an error in the delivery address made by the buyer, NY WATCH LAB cannot be held responsible for the loss of the shipment. In case NY WATCH LAB needs additional information regarding a delivery address, the buyer may be approached by NY WATCH LAB to provide further information. There may be a delay in the delivery in case additional information regarding the delivery address is needed.
NY WATCH LAB will use all reasonable efforts to deliver the order within the expected delivery terms to the delivery address. If the delivery cannot be implemented or if the delivery suffers a delay, the buyer will be informed about this as soon as reasonably possible after the order has been placed.
Deliveries are made Monday to Saturday, excluding holidays.
NY Watch Lab is honored to provide you with a watch that you love.
That is why we stand by all of our products with a one-year International warranty. If an item fails, as a result of a manufacturer's defect at any time during the year, we will repair or replace the item at absolutely no cost.
If your watch has any symptoms of abnormality, gaining or losing time, or not keeping proper time, please do not hesitate to contact us by phone or email. You can contact us at +1 347 256 3893.
NY Watch Lab guarantees that your timepiece will be free of material and artistry defects and warrants the dependable functioning of its entire movement. If NY Watch Lab determines that a repair under warranty is required, one of our trained watch professionals will direct you on how to safely and efficiently ship the watch to us, or how to reach the designated service centers. Under warranty, NY Watch Lab does not cover internal or external damage resulting from excessive wear, or mishandling. Also, normal wear and aging from scratches and abrasions to the crystal, case, band, or buckle are not covered. Alterations or tampering of parts like batteries or accessories will also not be covered.

GUARANTEED ORIGINALITY
Watches described as new are with their original seals intact, along with the manufacturer's packaging and all original
paperwork. Each watch that we sell comes with a comprehensive manufacturer's guarantee.